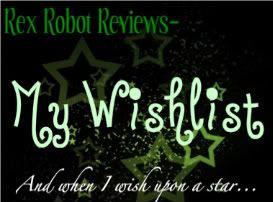 Well, who can't believe it is Wednesday already?! I can't believe Thanksgiving is around the corner and November is almost over! I guess November would go fast though- what with my first *contest* (check it out, people! upper left hand corner!!) Alright, I need to get on with it!
Welcome to my first Wishlist post! My wishlist is MASSIVE. However, I'm just going to pout about a couple books I don't own yet- just a few ;o] How does hm... two from my list sound? Yeah, I think that sounds about right for my first wishlist.
Wishlist posts are hosted by our wonderful blog- BookChickCity.
This is the fourth installment of the Harper Connolly series by Charlaine Harris. This series progressed with each book I read. I know, I can't believe I haven't read this either. This is such a fun series- you can check out my reviews for the first three books
here
.
Published: 10/27/2009

Berkley Hardcover: 320 Pages

ISBN-13: 9780425230152

ISBN-10:
0425230155
Check out Grave Secret at Goodreads.com!
Now, what do I have next? Geesh, a book I am dying for to be released YESTERDAY! This book doesn't come out until February- and normally I don't buy books on the release day... believe me, I'd like to. I just have some *pesky* student loans that need to be paid back, so I TRY to prioritize. It is so hard. Hehe. But really-
I AM SO ANTICIPATING THIS NOVEL!
It will be in my hands on release day.
It will!
...Unless my gorgeous man buys it for me for Valentine's Day. Now THERE is an idea!
To see some of my reviews on Jeaniene Frost's Night Huntress Series please CLICK HERE.
Title: First Drop of Crimson

Author: Jeaniene Frost

Published: Avon, February 9, 2010

Mass Market Paperback: 384 Pages

ISBN10: 0061583227

ISBN13: 9780061583223


Alright, ladies & gentlemen, thank you for stopping by and checking out my *wishes.* Do you have any wishes you want us to know all about? Have opinions on my wishes? Let me know! Leave the link to your wishlist post in my comments and tell me what YOU think about my junk. Did I just say junk? I totally typed that on accident, but it made me giggle so I'm keeping it.
Have a wonderful Wednesday!