Interview:
Welcome to Rex Robot Reviews- so happy to have you here today! I would like to thank you for taking the time to join us for this interview.
1. What inspired your novel First Night?
I had just written a screenplay called Fission, based on the real-life story of the scientist Lise Meitner, and the race for the nuclear bomb. Now, that story began in 1906 and ended in 1968, and included two world wars and the collapse of an Empire. It was very much in the form of the epic or mini-series genre: quite serious and dramatic and high-brow. When that was completed, I thought that it would be fun to go in exactly the opposite direction, and see if I could come up with a story where all the action takes place in just one day, something light and whimsical.
And I was in Downtown Boston on New Year's Eve when I realized that Boston and the First Night Festival would make the perfect backdrop for the story. Being the Holiday Season, we were doing the old favorites, like watching A Christmas Carol, I was lamenting the fact that no one seemed to write that kind of story anymore. My wife countered that, instead of complaining, I should sit down and write it.
First Night also began as a screenplay, but as it progressed, and the story began to take on a life of its own, I realized that it was becoming a bit darker and heavier than I originally planned. I needed to address that; so I put the screenplay on hold and turned to the novel.
2. Tom, which character did you enjoy writing the most and why?
Am I allowed to say I love them all or is that a cop-out? I would have to say Cuchaquichá from The Elf of Luxembourg has a slight edge this week. Sarah Pemberton, from First Night, is also a character that I love a great deal, but in that story I found her being overwhelmed by the emergence of Alex and Jackie. Of course, for Sarah, that state of helplessness was one that benefited the story.
Cuchaquichá on the other hand, did just the opposite. Having got their start in First Night, The Elf of Luxembourg was supposed to be the starring vehicle for Alex and Jackie. In the beginning, Cuchaquichá was meant to be a minor character, secondary to the Elf and Vampires, but the more I wrote about him, the more I had to write, until he shared equal billing.
As to why? I'm not sure. It could be that in a book where nothing is quite what it seems, where people are scheming and fighting all the time, Cuchaquichá exhibits a detached bemusement to it all, which is sort of how I feel about the world in general.
3. If The Elf of Luxembourg had a soundtrack, which songs would you choose?
If I had the luxury to spend vast sums of money on songs for an original soundtrack, I would go, without hesitation, to Andy Partridge and Colin Moulding, better known as XTC.
From their existing repertoire, we would open with The Beating of Hearts (which is as close to the Toucan Song as I'm likely to get). The way that Andy can turn a phrase, lyrically or musically, is simply stunning.
But I also love the earthy sensibility that Colin shows on songs like Sacrificial Bonfire – In the book, I talk about the festival of Buergbrennen and Sacrificial Bonfire fits that nicely.
Of course, the book is subtitled, a love story - I'd have to fit Love on a Farm Boy's Wages in there somewhere, even if it does irritate the wife.
And there are the Sister's theme songs: The Disappointed for Alex and Wrapped in Grey for Jackie. Could I get Andy to substitute Toucans for Parrots?
I'll stop before I list another 100 XTC songs.

4. Would you rather see Alexandra O'Rourke on the TV screen or the big screen? Why?
As I mentioned, I began First Night as a screenplay; and the way I write is to picture how a scene would look on the Silver Screen and then write it down. I think the Alex and Jackie stories have so much going on that they need space to breathe. So I would opt for the big screen. And if you put Alex in a small box, she would start to complain.
It's not that one medium is better than another, just different; for example, the animation I'm currently working on for There be Monsters! seems better suited to TV.

5. How would you say that your interests influence your writing?
They have a direct influence. One of the aims of the Alex and Jackie books is to showcase the places that I love; Boston in the case of First Night, Luxembourg in the case of the Elf of Luxembourg. It was important to me to make these integral to the stories. I've had feedback from some readers to the effect of "I've never been there, but now it's on my list." That was my intent.
In another way, the Elf of Luxembourg came about from my circumstances and interests at the time. I was living in Luxembourg, I was reading a biography of Sir Walter Raleigh, I saw an article about the Glozel Stones, and Lord of the Rings was making headlines. I thought it would be fun to take elements from all these things and combine them in one story.
6. Where is your favorite spot to read/write?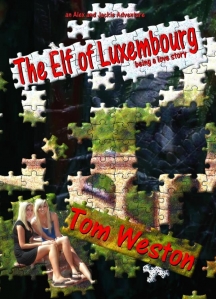 I wrote the first lines of The Elf of Luxembourg (now embedded in the chapter entitled Old Town) one sunny morning while sitting, drinking coffee in Luxembourg's Place Guilliam. I would be hard pressed to think of a better spot than that. Of course, that is not always practical, so I also have an office for the purpose. It has a big window overlooking the street, so I can watch the people come and go. It's a quiet cul-de-sac, so there are not that many people, but sometimes deer or turkeys, It's very relaxing.

7. If you can take the books of only one author with you to a desert island, which author would you choose? Why?
It's not fair to limit me to just one author. Yesterday, I would have said P.G. Wodehouse. Tomorrow, I may say J.R.R. Tolkien. But today, I'll go for . . . Terry Pratchett. How better to keep my sanity than by reading the Discworld novels, where everyone appears insane.

8. So, what comes after The Elf of Luxembourg? Excited about any other releases or works in progress?
I'm working on an animation called There be Monsters! It's an adaptation of a short story of the same name that I wrote during my last virtual tour. I have another story in the works for this year's virtual tour, so hopefully, it may become a bit of a tradition.
On the Alex and Jackie front, I'm doing the research for their third adventure. This one is set in Ireland, and features Fairies, Vikings and the Book of Kells. The storyline is quite developed, and there are bits of dialogue starting to mysteriously appear around the house, so it's almost at that tipping point where I'll sit down to churn out my 1,000 words a day on it.
Thank you, Tom
, for taking the time to stop here and answer some questions
!
It has been great! Can't wait to see what comes next for Alex & Jackie :)
Check out Tom's books at Amazon.com for some great adventure-