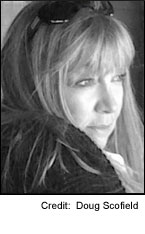 About the Author:
M.J. Rose is the internationally bestselling author of several novels and two non-fiction books on marketing.
The television series PAST LIFE was based on Rose's Reincarnationist series. The real stories about how she was inspired to write each book in this series as well as the knowledge she has about reincarnation and the art world make Rose an interesting and compelling.
About the Book: The Hypnotist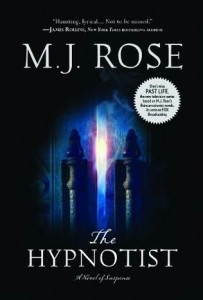 Haunted by the murder of his lover — a beautiful young painter — Lucian Glass keeps his dark memories at bay by focusing on his work with the FBI's Art Crime Team. Currently investigating a crazed art collector destroying priceless masterpieces, he becomes involved in a bizarre hostage negotiation that takes him undercover at the Phoenix Foundation. Under hypnosis he travels back to ancient Greece and nineteenth-century Persia, past life while the case takes him from New York to Paris and the movie capital of the world. These combined journeys will shatter his understanding of reality, force him to question his sanity and lead him into the center of an intricate plan to break in to the Metropolitan Museum of Art and steal Hypnos, the 1,500 year old sculpture of the Greek God of sleep, said to hold a secret that many would literally kill to uncover.
Interview:
Which character did you enjoy writing the most and why?
I love every character more than the others when I am writing them. It's like asking a mom to pick her favorite child. I only write about characters that fascinate me - that's the joy of being a writer - I get to invent people.
Would you rather see your books on the TV Screen or the Big Screen?
Well, this past year I saw what the TV world did to my books - Past Life on Fox was inspired by my books and what came out was pretty far removed from my books... so I'd love to see what would happen on the big screen.
What do you do when you aren't writing?
Thinking about writing. No seriously. Talk/see friends/family. Reading. I go to a lot of museums and art galleries. I run a marketing business for authors - called Authorbuzz.com. I try to get out and walk and swim. And lest I sound utterly boring - shop for shoes.
How do you handle the negative reviews and critiques you may receive?
I cringe. Physically. Want to throw up. I try to think it through and see if it has any value. Then I go and read the last great review I got.
Any books that stand out from your childhood that you absolutely loved?
Hundreds. Reading saved my life. I was a really lonely kid. But we can start with The Secret Garden. And every Nancy Drew book.
If you can take the books of only one author with you to a desert island, which author would you choose? Why?
I think I'd take Charles Dickens not just because he was an amazing author but he wrote such long complicated novels I'd need a lot to keep me busy for a long time.
Thanks, MJ!
You can find MJ
08/05/10 at
Adventures of an Intrepid Reader!
Contest Time!
How to Enter:
-Be a Follower! (New/Old)
Extra Entries for +5 Each:
Rules:
-48 hours to get back to me
-US & Canada residents only (sorry!)
-Book provided & delivered directly from author
-GOOD LUCK & HAVE FUN :)
Contest has been CLOSED.
Thank you to everyone who participated!