Venom
Release Date: Sept 28, 2010
Genre: Urban Fantasy

MM Paperback: 416 pages
Publisher: Pocket
ISBN-10: 1439148015
ISBN-13: 978-1439148013

Synopsis: It's hard to be a badass assas­sin when a giant is beat­ing the crap out of you. Luck­ily, I never let pride get in the way of my work. My cur­rent mis­sion is per­sonal: anni­hi­late Mab Mon­roe, the Fire ele­men­tal who mur­dered my fam­ily. Which means pro­tect­ing my iden­tity, even if I have to con­ceal my pow­er­ful Stone and Ice magic when I need it most. To the pub­lic, I'm Gin Blanco, owner of Ashland's best bar­be­cue joint. To my friends, I'm the Spi­der, retired assas­sin. I still do favors on the side. Like rid­ding a vam­pire friend of her over­sized stalker—Mab's right-hand goon who almost got me dead with his mas­sive fists. At least irre­sistible Owen Grayson is on my side. The man knows too much about me, but I'll take my chances. Then there's Detec­tive Bria Coolidge, one of Ashland's finest. Until recently, I thought my baby sis­ter was dead. She prob­a­bly thinks the same about me. Lit­tle does she know, I'm a cold-blooded killer … who is about to save her life.
About the Author:
By night, Jen­nifer Estep is an author, prowl­ing the streets of her imag­i­na­tion in search of her next fan­tasy idea.
By day, Jen­nifer is an award-winning fea­tures page designer for a daily news­pa­per with a wide range of media and jour­nal­ism expe­ri­ence. She's also a cer­ti­fi­able fan­girl and an author­ity on fan­tasy lit­er­a­ture and cul­ture.
Interview:
Hi, Julia! Of course. I'm the author of the Ele­men­tal Assas­sin urban fan­tasy series. The books focus on Gin Blanco, an assas­sin code­named the Spi­der who can con­trol the ele­ments of Ice and Stone. When she's not busy killing peo­ple and right­ing wrongs, Gin runs a bar­be­cue restau­rant called the Pork Pit in the fic­tional south­ern metrop­o­lis of Ash­land. The city is also home to giants, dwarves, vam­pires, and ele­men­tals – Air, Fire, Ice, and Stone.
The first two books in the series are Spider's Bite and Web of Lies. Venom, the third book, will hit shelves on Sept. 28. Tan­gled Threads, the fourth book, will be pub­lished in May 2011, while the fifth book (unti­tled) will be released in Octo­ber 2011.
As for what inspired the series, well, I've always loved reading about assassin characters, especially in fantasy literature. One day, I thought that it would be cool to come up with my own assassin character with my own magic system and world for her to play in. That was the beginning of Gin Blanco and the city of Ashland.
Are any of your characters a particular challenge for you?
Not really. I love writing all my characters, from Gin to her friends to the villains. Sometimes, it's more fun to write the villains than it is the heroes. LOL.
The only characters that I occasionally struggle with are what I call "throwaway characters" – those that only appear in a scene or two (usually because they're bad guys and Gin kills them). I hate trying to come up with names for those characters because I know they aren't going to be around that long. Sometimes, I wish I could get away with writing Bad Guy #1 or Red Shirt #2.
Do you have a favorite character that you can relate to?
Gin is my favorite, but I also really like her foster brother, Finnegan Lane. Finn is a shameless, greedy, arrogant womanizer – and he's proud of it. For me, it's a lot of fun to write a character who embraces his flaws so readily – and has such a good time doing it. No matter what happens, Finn always has a smile on his face and a ready comeback. I love that about him.
What kind of research did you find necessary for your Elemental Assassin series?
I don't really do too much research since my books are urban fantasies. The great thing about writing fantasy is that you can up make the whole thing. LOL.
Instead, I focus a lot of my time on the magic and world building to try to make those really unique, interesting, and different from the other books that are out there. Even though I'm writing fantasy, I want the characters and how they use their powers to be as believable as possible – to make the reader think that maybe this or that could really happen, if we lived in Gin's world.
What is your favorite aspect of writing in the urban fantasy genre? Do you consider writing in other genres?
I love all the strong heroines in the urban fantasy genre and the fact that you can create any kind of magic/world you want to for your heroine. That's really what attracts me to fantasy books and urban fantasy in general. Also, I'm not that great writing epic fantasy, so the urban fantasy lets me create all these worlds and still have my characters use things like electricity and indoor plumbing. LOL.
I've written three paranormal romances in my Bigtime superhero series, and there are other genres that I'd love to tackle someday. I'd love to write a western and a heist book, among other things. I have tons of ideas, and I wish that I had more time to write.
But no matter what genre I'm writing in, all my books have a few things in common – strong, sassy heroines, cool magic/world building, and lots of fight scenes. I love writing fight scenes. ;-)
Are there any particular songs you would include in a soundtrack for Venom?
One of my favorite songs is Human by The Pretenders. I think that song really just sums up Gin's character. I also love The Killers and Green Day and think that their songs would be perfect for a Venom soundtrack.
What scene do you favor most and could never cut from Web of Lies?
I really like the scene at the end of Web of Lies where Gin is wandering through the collapsed coal mine wondering if she's ever going to get out. Most people would panic in that situation (I know I certainly would), but Gin keeps her cool. I just think that it shows exactly how mentally tough she is and the fact that she never gives up no matter how hopeless the situation looks.
How do your interests influence your writing?
I love reading, of course, and books, movies, music, and TV shows. But whenever I read or watch something, I wanted to be entertained first and foremost. So those are the kind of books that I write – books that are just action-packed and fun and have a little bit of everything in them from danger to drama to magic to romance.
I love fantasy, westerns, and spy shows, among other things, and I think some of those influences can be found in my books. Some of my favorite movie and TV shows include The Princess Bride, the first Pirates of the Caribbean movie, Chuck, Alias, and The Good, the Bad, and the Ugly, just to name a few.
What is your favorite place to read/write?
I don't really have a favorite place to write. I have an office in my house where my computer is, and that's where I do my writing. The only thing that I really need to write is some dead freaking silence, as I like to call it. LOL.
Any place there's a couch or a comfortable chair and some quiet is a great place to read. Air conditioning is a plus too. LOL.
Any books that stand out from your childhood that you absolutely loved?
I loved the Babysitters Club and Sweet Valley High series. I read those, especially the Babysitters Club, over and over and over again. I also really liked books with animals, like Where the Red Fern Grows by Wilson Rawls and Mrs. Frisby and the Rats of NIMH by Robert O'Brien.
If you can take the books of only one author with you to a desert island, which author would you choose? Why?
Oh, that's a toughie! But if I could only take just one, I'd have to say the James Bond books by Ian Fleming. I'm a huge Bond fan, and I'd love to have the time to go back through and re-read all the books.
So, what comes after Tangled Threads? Excited about any other releases or works in progress?
Tangled Threads is coming out in May, and book 5 in the Elemental Assassin series will be out in October 2011.
I've also sold a young adult urban fantasy series called Mythos Academy. The first book is called Touch of Frost and will be out in August 2011. The books focus on Gwen Frost, a Gypsy girl who has the gift of psychometry, or the ability to know an object's history just by touching it. After a serious freak-out with her magic, Gwen finds herself shipped off to Mythos Academy, a school for the descendents of ancient warriors like Spartans, Valkyries, and more.
Do you have any upcoming events? If so, where can your fans find you?
I'm getting ready to leave to go to RAW, which is Lora Leigh's Reader Appreciation Weekend in Huntington, W.V. It runs from Sept. 9-12. I think it's too late to register, but there will be a book signing on Sept. 12 that's open to the public. Here's the link to the website with all the details: http://readerappreciationweekend.com/.
Thanks, Jennifer, for stopping by and taking the time to answer my questions! :)
Thanks for having me on the blog! ;-)
Giveaway!
[Closed]
What is up for grabs?!
1 Copy of Venom!
How to Enter: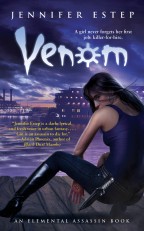 -Be a Follower! (New/Old)
-Comment with a Valid E-Mail
Extra Entries for +5 Each:
Rules:
-US/Canadian Residents Only!