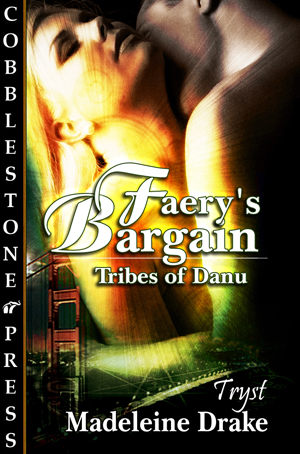 Title:
Faery's Bargain
Author: Madeline Drake
Genre: PNR Romance
ISBN: 978-1-60088-591-4
Ebook: 10k Words
My Copy: Author
Reviewer: Dewey
My Review:
Tara knew all about the Fae and their reputation, learning everything she knows from her now deceased grandmother, who also taught her everything she knew about spells and wards. But she just couldn't comprehend how a beautiful Fae man had broken her wards to enter her shop... Kane, the delicious fae, was seeking her help, and although everything she knew about these creatures told her to stay away, she couldn't resist the bargain he was presenting. On a desperate search for a cure for her nephew, slowly dying from a naga attack, the beautifully frightening fae was her only hope for the cure she needed to save him.

The deal is that the vial of medicine Tara required for a banishing Kane needs desperately- so desperately that his life depends on it. Her biggest concern is the unbelievable attraction she feels towards the mysterious fae man. So when Kane reveals that her only options to help him banish the demon that ails him is either sex magic or blood magic, she begins convincing herself it is a simple right with no strings attached …or is it?

The story was just too short for me!! I enjoyed it; however, I would have much preferred to see it turned into a full novel. I always find short stories to be frustrating in a way that the characters seem to bond too quickly and events play out at a pace much too unrealistic for me- making it hard to become attached emotionally to the characters or the plot. Aside from that, it was an interesting story of passion, Faery culture, desperation and sacrifice… the perfect combination for an exciting supernatural adventure. It comes highly recommended to those that love paranormal romance and short stories!