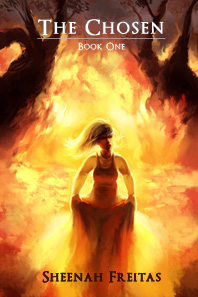 About the Book:
Kaia's entire life has erupted in flames after an assassin appears and burns her village down. She's rescued by a god from another planet who requests her help because she's the descendant of their last savior. Together with Reeze — the only other survivor from her village and her appointed guardian — they set off on a quest to find the treasures of the gods in hopes of preventing a dire prophesy.
Kaia and Reeze quickly meet the Tueors, a group of people many thought extinct, who are searching specifically for Kaia. Their intention: to protect the truth. As Kaia discovers more about the truth and her family's past, she also learns of the Tueors' bloody secret. Will Kaia be the savior the gods have been waiting for? Or will she let the prophesy come true?
About the Author:
A neek at heart, Sheenah Freitas has a love for the whimsical and magical. She looks to animated Disney movies and Studio Ghibli films for inspiration because of the innovative twists on fairytales, strong story structures, and character studies. When not writing, you might find her in a forest where she's yet to find any enchanted castles.
Into the Past
I've always been a voracious reader. If there was a book in the house, there was a good chance that I would pick it up and read it. There isn't a genre that I haven't read (okay, except Western). I was always the go-to gal for book recommendations.
At age 5, I would have happily recommended Eric Carle books. Seriously, if you didn't enjoy looking at The Very Hungry Caterpillar, you would not have been my friend. I enjoyed If You Give A Mouse a Cookie and at one point I could recite the entirety of it.
At age 11 I fell in love with Holes; When My Name was Keoko; Bud, Not Buddy; and A Taste of Blackberries. I pretty much read every single middle grade book my school library had to offer and my librarian was always telling me about the latest Newberry Winner I just had to try. It was around that time when I first heard about Harry Potter, but at 11, I would have told you not to touch the series. I would, however, have thrown the books at you at 12 and forced you to read the series.
At 16 I didn't have time to read as much as I would have liked. I was being bombarded to read The Awakening, Madame Bovary, and a bunch of other books that dealt with suicide and feminism that I wouldn't recommend to anyone (with the exception of House of Spirits). If you wanted manga recommendations, however, I would provide you with Fruits Basket, Nana, and Fullmetal Alchemist. I devoured shoujo (girl) manga to keep me sane from all the classic literature I was forced to read and translate.
It's been almost two years since I returned to reading as voraciously as I did when I was 11. I pretty much want to scream at my 20 year old self and ask why it took so long for me to pick up The Hunger Games. But I was too busy reading The Gargoyle and Let the Right One In, two books that I absolutely love. I'm glad I picked up the Nicholas Flamel series — it's proved to be an enjoyable ride! I love mythology and I love how Michael Scott is able to mix so many different cultures into one book.