One of my goals this year was to join in on some reading challenges. It was hard to narrow down which ones I wanted to participate in! Below are the challenges I ended up with. I will be updating this page as I work through my goals.
See individual Challenges for updates!
2013 Goodreads Challenge: 150 books
16/150
Standalone Reading Challenge
The goal is to read 15 MG/YA standalone novels published in 2013.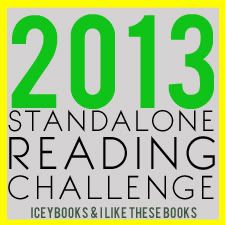 Dusty Bookshelf
Cobweb (10-15) from this list:
Days of Magic, Nights of War by Clive Barker (8 years)
Girls Guide to Hunting and Fishing by Melissa Banks (7 years)
Notes from a Small Island by Bill Bryson (6 years)
The Monkey Wrench Gang by Edward Abbey (6 years)
Birth of Venus by Sarah Dunant (6 years)
The Bonesetter's Daughter by Amy Tan (4 years)
Nevermore by Neil Gaiman (3 years)
Switched by Amanda Hocking (2 years)
Major. Pettigrew Last Stand by Helen Simonson (2 years)
In the Garden of Beast by Erik Larsen (1.5 years)
Winter Sea by Susanna Kearsley (1.5 years)
A Dog's Purpose by W. Bruce Cameron (1 year)
Beautiful Darkness by Kami Garcia (1 year)
Every Other Day by Jennifer Lynn Barnes (1 year)
Past Perfect by Leila Sales (1 year)
The Mermaid's Mirror by L. K. Madigan (1 year)
Goddess Test by Aimee Carter (1 year)
Scarlet by AC Gaughen (1 year)
New Girl by Paige Harbison (1 year)
Hereafter by Tara Hudson (1 year)
Entwined by Heather Dixon (1 year)
Destines by Jessie Harrell (1 year)
Brightest Kind of Darkness by PT Michelle (1 year)
Chosen by Sarah Swan (1 year)
Lament by Maggie Stiefvater (1 year)
Cold Kiss by Amy Garvey (10 months)
Slide by Jill Hathaway (10 months)
Dark Divine by Bree Despain (10 months)
Lost Saint by Bree Despain (10 months)
Haunting Violet by Alyxandra Harvey (9 months)
Wither by Lauren DeStefano (7 months)
Fever by Lauren DeStefano (7 months)
Birthmarked by Caragh O'Brien (7 months)
Intangible by J. Meyers (6 months)
Grasping at Eternity by Karen Hooper (6 months)
2013 Paranormal Reading Challenge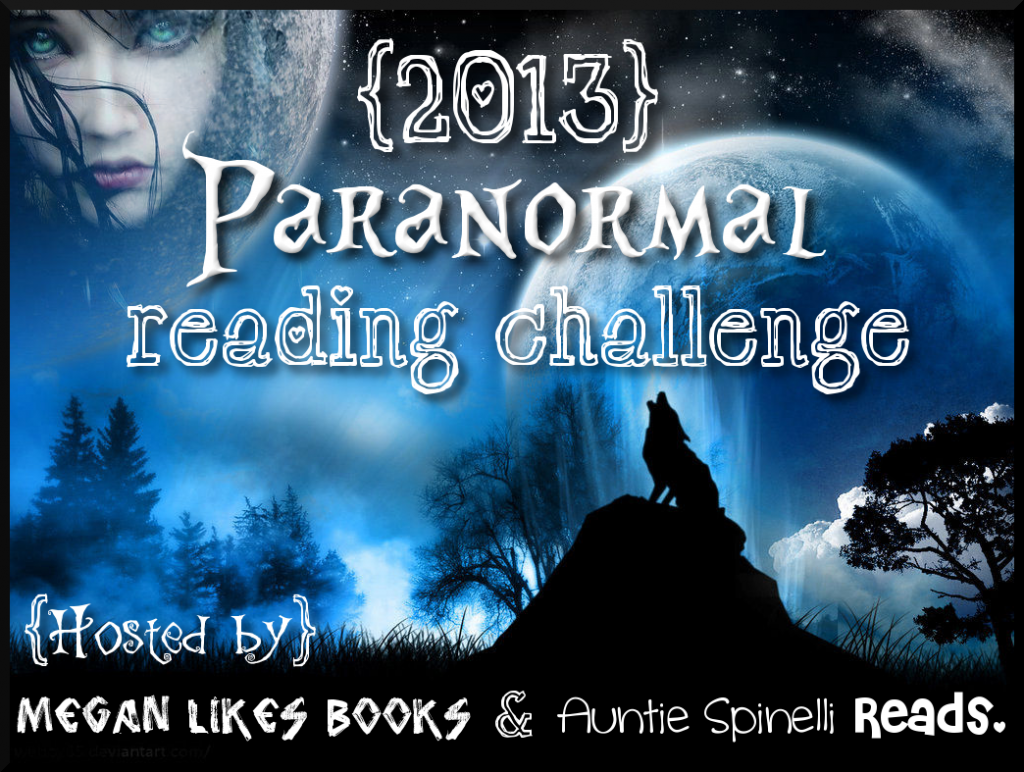 Here is the feature creature schedule. You can read in any order, but you get bonus points for reading the paranormal being in it's featured month. I'll add the books I read under the category along with the month I read it.
January - Vampires
February - Angels/Nephilim
March - Fey
April - Demons
May - Aliens
June - Zombies
July - Witches and Wizards
August - Mermaids
September - Dragons
October - Ghosts
November - Werewolves/Shape-shifters
December - Other
2013 Dystopian Reading Challenge
The goal is to read 24 post-apocalyptic dystopian YA novel. I will list my books here as I read them.
1.
Once
by Anna Carey
2.
The Scorch Trials
by James Dashner
2013 YA/MG Fantasy Reading Challenge
The goal is to read 10 YA/MG Fantasy novels. I will post them here as I read them.
1.
Crown of Embers
by Rae Carson
2.
Finnikin of the Rock
by Melina Marchetta
2013 End of Series Reading Challenge
The goal is read at least 7 books
that are published in 2013
that will be the final book in a series. (The rules have been updated to include any series ending book)
Books Read:
1.
Eternally Yours
(Immortal Beloved #3) by Cate Tiernan
2013 Sequel Reading Challenge
Sequels on my TBR pile (some are scheduled to be released later this year, so I included them as well) Also, this is a mixture of sequel where I have read the first book (*) and series where I own the first book, but haven't read it yet (+) My goal is to read the backlog of my books AND finish/catch up on any series I start (if the series is worth continuing, that is!). I HIGHLY doubt I will get through all of these, but it will be fun to see how far I end up!:
I will underline and link the reviews for the books I've read.
+Razorland Series by Ann Aguirre:
Outpost (#2)
*Everneath Series by Brodi Ashton
: Everbound (#2)
*The Grisha Series by Leigh Bardugo
: Storm and Siege (#2)
*Abandon Trilogy by Meg Cabot
: Awaken (#3)
*Eve Trilogy by Anna Carey:
JAN: Once (#2)
, Rise (#3)
*The Fire and Thorns series by Rae Carson:
JAN: Crown of Embers (#2)
+The Goddess Test series by Amy Carter:
Goddess Interrupted (#2), Goddess Inheritance (#3)
*So Close To You series by Rachel Carter:
This Strange and Familiar Place (#2)
+Medusa Girls series by Tera Lynn Childs:
Sweet Shadows (#2), Sweet Legacy (#3)
*The Matched series by Allie Condie
: Reached (#3)
*Steampunk Chronicles by Kady Cross:
Girl in the Clockwork Collar (#2), Girl with the Iron Touch (#3)
+The Clann series by Melissa Darnell:
Covet (#2), Consumer (#3)
*Maze Runner Series by James Dashner:
JAN: Scorch Trials (#2)
+The Chemical Garden series by Lauren DeStefano:
Fever (#2), Sever (#3)
*Body Finder Series by Kimberly Derting
: Desires of the Dead (#2), Last Echo (#3)
+The Dark Divine Series by Bree Despain
: Lost Saint (#2), The Savage Grace (#3)
+Mythos Academy series by Jennifer Estep:
Kiss of Frost (#2), Dark Frost (#3), Crimson Frost (#4), Midnight Frost (#5)
*The Caster Chronicles by Kami Garcia:
Beautiful Darkness (#2), Beautiful Chaos (#3), Beautiful Redemption (#4)
+Cold Kiss series by Amy Garvey:
Glass Heart (#2)
+Unearthly series by Cynthia Hand:
Hallowed (#2), Boundless (#3)
+
Slide series by Jill Hathaway:
Imposter (#2)
+Magic Most Foul series by Leanna Hieber:
The Twisted Tragedy of Natalie Stewart (#2)
+Trylle series by Amanda Hocking
: Torn (#2), Ascend (#3)
+
The Mara Dyer series by Michelle Hodkins:
Evolution of Mara Dyer (#2)
+
The Kindrily series by Karen Amanda Hooper:
Taking Back Forever (#2)
+
Hereafter series by Tara Hudson:
Arise (#2), Elegy (#3)
*
Shades of London series by Maureen Johnson:
The Madness Beneath (#2)
+
Awaken series by Katie Kacvinsky:
Middle Ground (#2)
*
The Blood of Eden series by Julie Kagawa:
The Eternity Cure (#2)
*
The Iron Fey: Call of the Forgotten series by Julie Kagawa:
The Traitor Son (#2)
*
His Fair Assassin series by R. L. LaFevers:
Dark Triumph (#2)
+
The Darkness Before Dawn trilogy by JA London:
Blood Kissed Sky (#2), After Daybreak (#3)
*Legend series by Marie Lu:
Prodigy (#2)
*Shatter Me series by Tahereh Mafi
: Unravel Me (#2)
*
The Necromancer series by Lish McBride series:
Hold Me Closer, Necromancer (#2)
+Hourglass series by Myra McBride:
Timepiece (#2)
*The Unwanteds series by Lisa McMann
: Island of Desires (#2)
*New Soul series by Jodi Meadow:
Asunder (#2)
+
Brightest Kind of Darkness series by PT Michelle:
Lucid (#2), Destiny (#3)
*
The Fury Trilogy by Elizabeth Miles:
Envy (#2)
*The Ascendance Trilogy by Jennifer A. Nielsen:
The Runaway King (#2)
+Birthmarked series by Caragh O'Brien:
Prized (#2), Promised (#3)
*The Sky Chasers series by Amy Kathleen Ryan:
Spark (#2)
*
The Cahill Witch Chronicles by Jessica Spotswood:
Star Cursed (#2)
+The Forsaken series by Lisa Stasse:
The Uprising (#2)
+
The Books of Faerie series by Maggie Stiefvater:
Ballad (#2), Requiem (#3)
*
Immortal Beloved series by Cate Tiernan
:
JAN: Eternally Yours (#3)
+Witch Eyes series by Scott Tracy:
Demon Eyes (#2)
*The Crowfield Abbey series by Pat Walsh:
The Crowfield Demon (#2)
+Uglies series by Scott Westerfield:
Pretties (#2), Specials (#3), Extras (#4)
*Paranormalcy series by Kiersten White:
Supernaturally (#2), Endlessly (#3)