1. Favourite book boyfriend?
Oh god. I don't even know. It changes on a daily basis. But I agree with Elizabeth that Chaol from The Throne of Glass series is definitely a good choice.
2. Book you would consider most important/impactful to you as a person? (Not necessarily your favourite)
When I was in college, I took a Native American literature class. It was very eye opening. My favorite book we read was
Reservation Blues
by Sherman Alexie. I highly recommend it.
3. Character you think most resembles you? (As a person. Or physically if you wanted, I suppose)
I always felt a kindred spirit with Anne of Green Gables. With the exception of her not liking her red hair. I loved my red hair, which is now more of a strawberry blond.
4. Favourite OTP? (Throw in your favourite movie/tv/anime/anything OTP as well if you have one!)
I have a few right now: Chaol/Celaena from
The Throne of Glass
series, Blue/Gansey from
The Raven Cycle
, Ronan/Adam (please make this a thing!) from
The Raven Cycle
, Aria/Perry from
Under the Never Sky
series, Tarver/Lilac from
These Broken Stars
5. A ship you have just never been able to understand?
Warner and Juliet from the
Shatter Me
series. First of all, I go all ranty when a novella completely changes everything we know about a person. If it is so important, put it in the main book. I don't generally read novellas, so I'm not seeing this "misunderstood Warner". Plus I also dislike it when a character (in this case Adam), becomes so awful that it forces the love triangle in one way. Don't turn characters into d**ks just to make another pairing work. See? There I go ranty again.
6. First book you can remember reading?
I know I read books before these, but the first ones I really remember are
The Babysitter's Club
. I even belonged to the fan club book club that sent you a new book every month. My first book signing was Ann M. Martin. My favorite ones were the Mystery ones or the vacation ones when they had multiple narrators.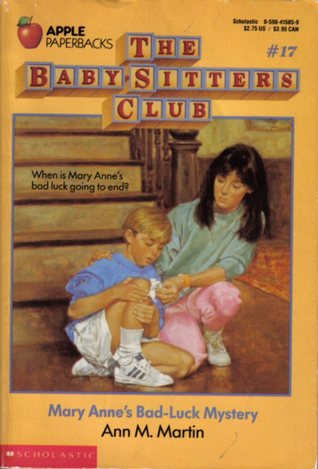 7. What book is your black sheep? (Book that either you hate that everyone loves or vice versa)
That would have to be
The Fault in our Stars.
I mean, I liked it alright, but I just didn't buy into wholesale. I wasn't really a fan of the hyber-verbalism and Augustus' whole cigarette metaphor thing just about sent me over the edge.
8. Book you most want to be adapted into a movie/show? (Or favourite adaption)
I would love to see
The 5th Wave.
I also think
The Immortal Rules
by Julie Kagawa would make a great CW show.
9. Character whose closet you want to shop in?
Celaena's with her love of pretty dresses. Or maybe Alina's. I would love a kefka.
10. Unsung book/character/ship/setting you wish more people knew/talked about?
That honor would go to
The Scorpio Races
.
In all three categories. I love the island of Thisby, I love the story, I love Puck and Sean and I love them together. I think everyone should read this book!
So, that's it! I don't have anyone in particular to tag, but I encourage everyone to participate if they like!
Here are my questions for you if you would like to participate!
1. What is one book that stayed with you long past the end of the story?
2. Who is your favorite sidekick or secondary character?
3. What was the first book you read?
4. If you could dress up as any character for Halloween, who would it be?
5. Name a favorite animal in a book.
6. What book do you recommend the most?
7. What is a book that you wish you could change the ending?
8. Who is your OTP (One True Pairing)?
9. What is the most beautifully written book you've read?
10. What book makes your feel nostalgic?