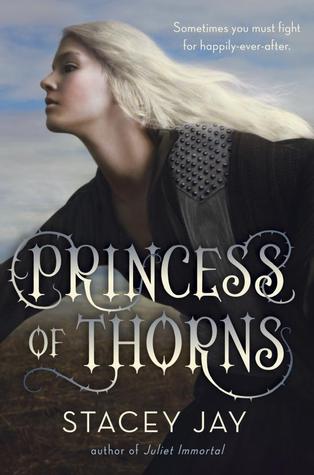 4.5 out of 5 Robots!
Princess of Thorns by Stacey Jay
Series: Standalone
Genre: Young Adult Fantasy
Release: December 9, 2014
Hardcover: 400 Pages
Publisher: Delacorte Press
My Copy: Publisher
Reviewer: Shannon & Julia
Book Summary:
Game of Thrones meets the Grimm's fairy tales in this twisted, fast-paced romantic fantasy-adventure about Sleeping Beauty's daughter, a warrior princess who must fight to reclaim her throne.

Though she looks like a mere mortal, Princess Aurora is a fairy blessed with enhanced strength, bravery, and mercy yet cursed to destroy the free will of any male who kisses her. Disguised as a boy, she enlists the help of the handsome but also cursed Prince Niklaas to fight legions of evil and free her brother from the ogre queen who stole Aurora's throne ten years ago.

Will Aurora triumph over evil and reach her brother before it's too late? Can Aurora and Niklaas break the curses that will otherwise forever keep them from finding their one true love? (Courtesy of the Publisher)
Joint Review with Julia & Shannon:
1. Give me the quick and dirty about Princess of Thorns!
Shannon: Princess of Thorns is a fun send up of traditional fairytales. Aurora ("Ror") is the daughter of the infamous Sleeping Beauty. But she is not your typical princess either. She was fairy blessed strength, mercy, bravery and no man who loves her can deceive her. These have interesting and some unintended side effects. Ror wants to reclaim her throne and save her little brother from the ogre queen, so she goes undercover as a boy to protect her identity. She ends up meeting Niklaas, a prince who is dealing with another terrible curse, who wants to woo Aurora. He thinks Ror is actually her brother, Jor. Hijinx ensue.
Julia: Princess of Thorns is everything Shannon says it is and more. Legitimately an awesome adventure with characters that pop off the pages. They've got chemistry, major ass-kicking skills and wit. This is a fun ride.
2. Our delightfully tomboyish heroine, Aurora, can you relate to her? Why/Why not?
Shannon: I liked Aurora all right. I liked how brave she was. And I enjoyed her acerbic sense of humor. She is a bit prickly though. I wouldn't say I relate to her personally, but I did enjoy aspects of her personality.
Julia: I can relate to her in a way that I know how to kick ass too. Hah, no, I wish I could fight like this girl. She is courageous and smart, and her super defensive personality does get a little frustrating, but it suits her character in the book enough.
3. Aurora develops romantic feelings for Niklass.... Did they have chemistry?
Shannon: I would say Aurora and Niklaas are my favorite pairings ever or anything, but they were pretty delightful at times. Especially when Niklaas still thought Aurora was a boy. Niklaas' narrations were my favorite because he was so cocky, but also charming. I think there was chemistry between them, but I did think their resolution took a looooong time to get to. At a certain point bantering just becomes bickering.
Julia:
Nikla
as and Aur
ora fought a little too much even during the
cheesy e
nding, but I loved it.
Don't ask me why, usually this sort of thing makes me real
ly roll my
eyes
... But they had so much chem
istry! Even before Ni
kla
as re
alized "Ro
r" was a girl
, hilarity. I
guess I just thought their banter
was cute. I do have to agree with Shannon though that their epic lovey resolution took way too damn long. That's what caused the eyes to start rolling, come on, these two super witty, fun characters would have realized what was right under their nose loooong before they did.
4. Are you satisfied with the ending as this is a standalone novel?
Shannon: Yes! I could have seen how it could have been split into two novels, if not a trilogy, but I completely respect that it was a standalone.
Julia: Definitely. I don't need anything else from Stacey Jay- she wrapped it up perfectly for me. Great world building, plot and conclusion. The END!
5. What was your favorite scene or aspect of Princess of Thorns?
Shannon: Niklaas was probably my favorite aspect. His personality and thoughts amused me quite a lot.
Julia: Niklaas was also my favorite aspect. He added humor, tension, romance. Perfect counterpart for our heroine as she makes her way to the ogre queen.
6. What is your rating and who would you recommend this to?
Shannon: I would give this somewhere between 4 and 4.5 stars. It felt a little long to me, especially when Niklaas and Aurora are working out their differences. And Jor, while seemingly a nice kid, was a little TOO perfect and insightful...especially considering he was supposed to be 14. But I also thought it was a unique and fun take on a very traditional fairytale. I would definitely recommend this book to fantasy and fairytale lovers alike.
Julia:
I would give this
five stars. I don't have any real qualms with it and I enjoyed every minute. Definitely have to recommend
this to fans of young adult fantasy o
bvious
ly!
It fe
els unique, not like any of the other fantasy novels

I've read in the past year.
Disclosure: I reviewed a copy free from the publisher in exchange for an honest review. All thoughts and opinions are my own.