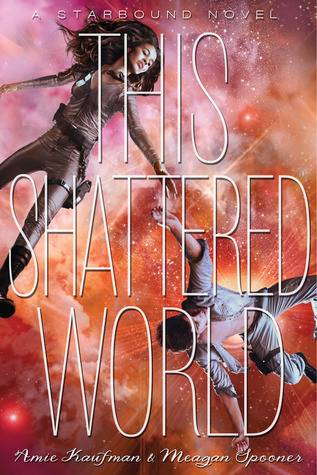 3 out of 5 Robots!
This Shattered World
Authors:
Amie Kaufman & Meagan Spooner
Series:
Starbound Novel, #2
Genre:
Young Adult Rom SciFi
Release:
December 23, 2014
Hardcover:
390 Pages
Publisher:
Disney-Hyperion
My Copy:
Library
Reviewer:
Shannon & Julia
Book Summary:
Jubilee Chase and Flynn Cormac should never have met. Lee is captain of the forces sent to Avon to crush the terraformed planet's rebellious colonists, but she has her own reasons for hating the insurgents.

Rebellion is in Flynn's blood. Terraforming corporations make their fortune by recruiting colonists to make the inhospitable planets livable, with the promise of a better life for their children. But they never fulfilled their promise on Avon, and decades later, Flynn is leading the rebellion.

Desperate for any advantage in a bloody and unrelentingly war, Flynn does the only thing that makes sense when he and Lee cross paths: he returns to base with her as prisoner. But as his fellow rebels prepare to execute this tough-talking girl with nerves of steel, Flynn makes another choice that will change him forever. He and Lee escape the rebel base together, caught between two sides of a senseless war. (Courtesy of the Publisher)
Julia & Shannon: Joint Review!
1. In a couple sentences, what did you think of This Shattered World?
Julia: This Shattered World is a satisfying read, but I didn't feel much emotion toward either of our main characters. The plot is exciting and there is a good deal of action, that and the dialogue itself kept me flipping the pages.
Shannon: This book definitely cemented my belief in this series. Kaufman and Spooner manage to make an interesting and well written "space opera".
2. What did you like? What did you dislike?
Julia: I loved that Tarver and Lilac make an appearance. It is by far the highlight of the novel for me. And I really disliked that Lee and Flynn's relationship didn't show any real development throughout the story. Lilac and Tarver had an adventure and obstacles to overcome together and you get to watch them grow together.... I didn't get that here and it is disappointing.

Shannon: Totally agree that Tarver's cameo really gave the plot a jolt. I liked how fast paced the plot was. There is a ton of action! I liked both of the main characters fairly well. Each were compelling in their own ways. I liked that I felt like I knew them and understood their motivations. There wasn't really anything I didn't like, except for the few places that the story stalled.
3. What did you think of the romance between Lee and Flynn?
Julia: Well, I kind of said it before... I didn't feel like they really worked for a relationship. It was a lot of running around figuring things out. I don't even think they spent that much time together. There is chemistry, but not enough. It's missing something. I'm not satisfied, haha.

Shannon: Yeah, this felt much more like the dreaded insta-love. I didn't really feel the chemistry between them. I think I would have preferred if they were just friends. But you know, it's a YA novel, so there must be romance. I was more interested in all the other parts though.
4. How does This Shattered World compare to its companion novel, These Broken Stars?
Julia: In my opinion, it doesn't really compare. I enjoyed These Broken Stars SO much more than This Shattered World. The plot is just as good, it just didn't have as much "oomph."

Shannon: I will have to be honest and say that I liked These Broken Stars better for several reasons. One, I liked the storyline better and two, I liked the romance waaayyy better. This Shattered World was lacking that sweeping romantic feel that These Broken Stars had. I loved the slow burning romance between Lilac and Tarver in the first one. And in all honesty, I enjoyed them more as characters. This isn't to say Lee and Flynn aren't good characters, but just that I liked Lilac and Tarver better.
5. How do you feel about the overall arc this series is starting to take?
Julia: I'm interested in seeing what happens in the next novel. This one explained a lot about the whispers and it is intriguing to see one connect with Lee. Really all I care about is Tarver and will he show up in book three? ;)

Shannon: I do like how overarching the series is starting to be and how far reaching the Big Bad is. I think it is really interesting. I would not mind our characters all converging together in the third book though! I will definitely be back to meet new characters (or at least I'm assuming there will be) and see how it all comes together.
6. What is your rating? Who would you recommend this book to?
Julia: I gave it three stars because I was only super into it in the middle. At the end I began skipping straight to dialogue between characters. It didn't keep me as interested as book one. Regardless, those who loved book one or love young adult science fiction should give this one a go. There isn't as much romance as in the previous novel, but there are some super cheesy lines you may enjoy. hah.

Shannon: I will give it 4.5 because I do think this was an excellent book. And I think the only reason why I am feeling any disappointment is because the bar was raised so high for me with the first book. I recommend this series to sci-fi fans and those that like epic, sweeping stories.