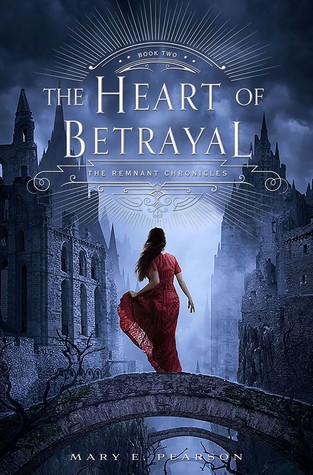 4 out of 5 Robots!
Heart of Betrayal
By

Mary E Pearson
Series: Remnant Chronicles #2
Genre: Young Adult Fantasy
Release: July 7, 2015
Paperback: 470 Pages
Publisher: Henry Holt & Co
My Copy: Library
Reviewer: Julia & Shannon
Book Summary:
Held captive in the barbarian kingdom of Venda, Lia and Rafe have little chance of escape. Desperate to save her life, Lia's erstwhile assassin, Kaden, has told the Vendan Komizar that she has the gift, and the Komizar's interest in Lia is greater than anyone could have foreseen.

Meanwhile, nothing is straightforward: there's Rafe, who lied to Lia, but has sacrificed his freedom to protect her; Kaden, who meant to assassinate her but has now saved her life; and the Vendans, whom Lia always believed to be barbarians. Now that she lives amongst them, however, she realizes that may be far from the truth. Wrestling with her upbringing, her gift, and her sense of self, Lia must make powerful choices that will affect her country... and her own destiny. (Courtesy of Goodreads)
Julia & Shannon - Review!
1. Quick and dirty on HEART OF BETRAYAL?
Shannon: I'm sad to say that I didn't like it as much as the first book, Kiss of Deception. The book felt very long to me, and I just wasn't as into the plot as I was for the first one.
Julia: I enjoyed the book, I liked the new, dangerous atmosphere and characters. BUT as the last book felt like a breeze, I felt the length of this one. There didn't seem to be quite as much action as was in the first, though I think there was?
2. What was your favorite/least favorite part?
Shannon: My favorite part was the ending. Finally, everything came together and everything started happening! It was tense and exciting. My least favorite part was probably the length. Also, this book reminded me a bit of Winner's Crime, in that a character is trying to play a long con and has to deceive a lot of people at once. The difference, however, is that we knew what was going on in Kestrel's head in Winner's Crime. We don't know what Lia's head during this book. This type of thing worked better in the first book when we didn't know which character was the assassin and which was the prince. We were all in the dark. But now, those characters have been revealed, but we still don't know Lia's true purpose. It frustrated me a little, because I never knew when I was being deceived versus when the characters were being deceived.

Julia: Ah, though I agree with Shannon on all counts, I hated the death of one of my favorite characters. Least favorite part, definitely... and usually I love a good death. My favorite parts are those between Kaden & Lia, but then, I'm a little torn, because I love the ending scene with Rafe.

3. What about the chemistry? Who does she love!?
Shannon: I...don't know what to say. I mean, I think I knew who she loves by the end of the book...but as far as chemistry goes, I think she has more with Kaden than Rafe. I was less interested in the romance this go around, to be honest.
Julia: Merp! Who knows. The scenes with Kaden & Lia are way more thrilling, seems to be more chemistry - or at least I'm enjoying those scenes more. BUT then, ya know. Love triangles and all that.
4. There are so many teams to root for. Which kingdom do you sympathize with? Excited to finally visit Delbreck?
Shannon: This is one area that I feel this series shines. I love learning about the different kingdoms! And I like that Mary Pearson took the "enemy" and made them sympathetic, or at least, showed us why they are the way they are. And yes, I want to learn more about Delbreck!
Julia: I can't wait to have a storyline in Delbreck, we finally get to see where Rafe comes from and why he is who he is. Maybe I'll begin to enjoy his character more when I visit his world. I love his soldiers and hope they're a big part of the story. The three different kingdoms are the most fascinating part of the story.
5. Any new characters you loved or hated?
Shannon: I can't say I loved any of the new characters, or disliked them. I know Julia is going to say she loved the Komizar, though! Haha! But, I will say the new characters were interesting enough that I enjoyed their inclusion.

Julia:

I did enjoy the Komizar! Mostly because you couldn't tell if he was truly good or bad for a little while. He comes off as terrible, then you see him with his kingdom and making sure they have hope, and creating a fearsome army for the Vendens... He just made the story more interesting, and he's dangerous. There isn't much plot outside of his relentlessness. I also loved the children there and what they added to the story.
6. Did you like it! Rate it! Will we continue the series?
Shannon: Overall, yes, I did like it! I know it sounds like I didn't, but I promise I did. I just struggled a little bit with how long it felt before anything actual happens. I still give it 4 stars and I'm looking forward to the conclusion, especially after that ending!
Julia: I did like it. It has some epic romance and lots of action. Four stars from me! I can't wait to see what Lia's actual purpose is in the conclusion.