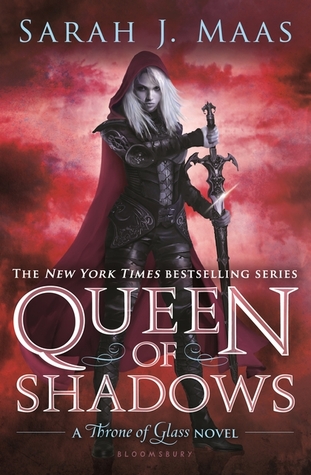 4.5 out of 5 Robots!
Queen of Shadows
By

Sarah J Maas
Series: Throne of Glass #4
Genre: Young Adult Fantasy
Release: September 1, 2015
Paperback: 648 Pages
Publisher: Bloomsbury USA Childs
My Copy: Library
Reviewer: Julia & Shannon
Book Summary:
Everyone Celaena Sardothien loves has been taken from her. But she's at last returned to the empire—for vengeance, to rescue her once-glorious kingdom, and to confront the shadows of her past . . .

She has embraced her identity as Aelin Galathynius, Queen of Terrasen. But before she can reclaim her throne, she must fight.

She will fight for her cousin, a warrior prepared to die for her. She will fight for her friend, a young man trapped in an unspeakable prison. And she will fight for her people, enslaved to a brutal king and awaiting their lost queen's triumphant return. (Courtesy of Goodreads)
Julia & Shannon - Joint Review!
1. Quick thoughts on the entirety of Queen of Shadows?
Shannon:

This book, man. First of all, it was long. So long. I just wanted everyone to get on with their business. I was ready to give it 3 stars because I was just so annoyed with everything, but then the ending. I should have trusted that Maas would pull it all together and leave me satisfied. Even if I'm giving her a little side-eye for the rest of the book.
Julia: Long, heartbreaking.... LONG! The beginning is fascinating, the middle is exhausting and the end is breathtaking! The characters al

l talk in circles and I wanted to yell into the book, GET ON WITH IT. But, like Sarah Maas always does, she blew my mind and made all that terrible middle worth it.
2. What did you think about Aelin's role in this one compared to the previous books?
Shannon:
Oh Aelin. For most of the book I really preferred Celaena to Aelin. This Aelin was cruel, self-righteous, angry, defiant and untrusting. She was downright unfeeling towards Chaol and Dorian, two men who were her closest friends and allies in the previous books. She was so into Rowan it was almost uncomfortable. In the previous book, I felt like they were intimate, but in a friend way. Well, this book changes everything because they spend a ridiculous amount of time oogling each other. Like, guys, the world is about to end. Let's prioritize, hmm? But I will say that I felt Aelin starts to come around at the end. After finishing this book, I'm ready to see more of Aelin's journey.
Julia: She isn't very likable in Queen of Shadows. On one hand, you see that she's growing up, but with the other hand you want to smack her. Stop trying to fool everyone! And I really don't understand why she is so frigid toward Chaol and Dorian at first. She also has a sick fascination with Rowan that wasn't as intimate, mysterious or romantic as I'd had hoped for after the last book. I do love that she doesn't depend on anyone, that she is badass and can take care of herself though. That hasn't changed.
3. Lysandra, Nesryn, Aelin, Manon... so many kick ass, strong females! Who is your favorite?
Shannon:
Well, we all know it wasn't Aelin for me. But I loved the other females in their own way! Lysandra was such a fun and interesting surprise. I just adored her. And her part in the end was just awesome. Nesryn was also a cool addition. I like the supportive role she plays for Chaol, who needs a shoulder. Poor kid. And then there is Manon. Manon FREAKED me out in the previous book, but I also really liked her emotional journey here. Manon's story may turn out to be the biggest one of all.
Julia: Manon, hands down. She's rotten, but she is coming around. She's realizing she doesn't HAVE to be evil. Her journey and witch culture is fascinating to me and I love how strong she is. I also love what Maas did with Lysandra, added a perfect twist with yet another courageous, tough female.
4. The plot, did it do anything for you?
Shannon:
I thought the plot could have been tighter, more concentrated. I felt like the first part was all Aelin and Chaol at each other's throats and Aelin and Rowan panting with sexual frustration, with a slow moving Manon subplot. But, it does all come together and the ending brings everything together.
Julia:

The plot is all over the place, I'm not even sure I knew what the end game was until the end. But, like I said before, the ending is well worth the wait and brings it all together.
Shannon:
GAH! Maas can write an ending. I should not be surprised, but damn, this was one was...explosive (ha!) It kind of tilted everything on it's side, yet put everything back right after the conclusion.
Julia: I don't even know what to say. It is a roller coaster ride, I think I held my breath until the last page. Oh, the webs you weave, Sarah! It is unpredictable and just flat out awesome.
6. What did you rate it? Are you recommending it and continuing the series?
Shannon:
I was going to rate it 3 out of 5, but after finishing the book, I'm bumping it up to 4.5. I do recommend it because I recommend this series wholeheartedly!
Julia:
4.5 out of 5. It was a solid
three stars because of my frustration and its outrageous length until about chapter 58? I highly recommend Queen of Shadows to any Sarah J Maas fan and anyone who hasn't read this series yet needs to start!!
Other books in this series:
1. Throne of Glass My Review & Amazon
2. Crown of Midnight My Review & Amazon
3. Heir of Fire - My Review & Amazon
4. Queen of Shadows Amazon
5. Untitled (2016)