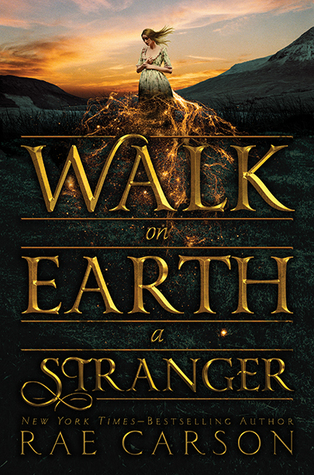 4 out of 5 Robots!
Walk on Earth a Stranger
By

Rae Carson
Series: The Gold Seer #1
Genre: Young Adult Historical Fiction
Release: September 22, 2015
Paperback: 432 Pages
Publisher: Greenwillow Books
My Copy: Publisher
Reviewer: Julia & Shannon
Book Summary:
Lee Westfall has a strong, loving family. She has a home she loves and a loyal steed. She has a best friend—who might want to be something more.

Lee can sense gold in the world around her. Veins deep in the earth. Small nuggets in a stream. Even gold dust caught underneath a fingernail. She has kept her family safe and able to buy provisions, even through the harshest winters. But what would someone do to control a girl with that kind of power? A person might murder for it.

When everything Lee holds dear is ripped away, she flees west to California—where gold has just been discovered. Perhaps this will be the one place a magical girl can be herself. If she survives the journey. (Courtesy of Goodreads)
Julia & Shannon - Joint Review!
1. What are your initial thoughts on Walk on Earth a Stranger?
Shannon: My very first impression is the cover is TOTALLY misleading. Based on the cover, I would think this was a fantasy. And it's not. Magical realism, sure, but it is very much a western. My second impression is that this series is very different than Rae Carson's other series (The Girl of Fire and Thorns). Which is not a bad thing! And lastly, I thought it was a little slow to get going, but by the end, I was really interested in Leah's story.
Julia: Walk on Earth a Stranger is nothing like what I had expected. I was thinking, fantasy, magic. You don't get any fantasy and very very little magic. The book still works though and it is perfectly written. Not much happens, but I was totally engrossed.
2. How does it compare to Rae Carson's Fire and Thorns series?
Shannon: Uhh, totally different. For one, and I cannot emphasize this enough, this book is NOT a fantasy. The only "magic" is Leah's ability to divine gold. But that reads much more like magical realism than fantasy, as I mentioned. Everything else is realistic. Buuuttt, I'm not sure I enjoyed this quite as much as the Fire and Thorns series. I really enjoyed that fantasy world. And while I enjoy historical fiction and westerns, it isn't quite as exciting as a good fantasy world.
Julia: The only similarity is maybe how much I love the way Rae writes her stories and pushes her characters to evolve. Whereas the Fire and Thorn series is epic fantasy- this isn't even close. I'm thrilled at getting to read something a little outside of what I usually do though.
3. Leah Westfall takes a trying trip west, what do you think about her?
Shannon: I liked Leah (Lee). I liked that she was willing to do the hard things. I wish she wasn't so...wishy-washy with acknowledging her feelings for Jefferson. Get off the horse already, Leah! (Haha, pun intended).
Julia: Leah is an easy character to like. She's independent and strong, isn't afraid to work. I also like that she seems to accept everyone as they are.
4. Leah travels with many strangers- Do you have a favorite?
Shannon: What a great group of characters. My favorite part of the book is when Lee is traveling with the wagons. I loved how Mrs. Joyner progresses through the book, but I think my favorite side characters are the College Boys and the Captain. They both play some important parts, but I liked how they react to their situations.
Julia: Jasper, Mrs. Joyner, the Captain and Jefferson. I can't choose. Jasper is just compassionate and smart... Mrs. Joyner is terrible, but her character grows and changes and that's awesome. Captain and Jefferson are also just solid characters. Great group!
5. What about the ending? Will we be reading more?
Shannon: I liked the ending because I felt like we got a full story, but with plenty to look forward to. Half way through the book I wasn't sure if I would want to continue reading, but the ending was strong enough to change my mind.
Julia: I love the ending and that we do get closure. BUT I'm really excited there will be more because I want to know about the lives these people lead after such a long, devastating trip.
6. Rating? Recommendation?
Shannon: I give this book 4 stars and I do recommend it. Especially if you like westerns!
Julia: 4 out of 5 Stars. I would've probably given it 5, but though it was hard to put down- when I did, I wasn't rushing to pick it back up. But I'm definitely recommending this to anyone that needs something a little different or enjoys westerns!