Goodreads: 18/150
I'm ahead by 6!
Goal: 30 Fantasy Books
January:
1. Iron Warrior by Julie Kagawa
Levels: (how many series enders you are planning to read)
Level 1: 1 – 5
Level 2: 5 – 10
Level 3: 10 – 15
Level 4: 15+
January:
1. Iron Warrior by Julie Kagawa
3 points for a Newbery Medal Winner
2 points for a Newbery Honor Book
1 point for a Caldecott Medal Winner
L'Engle
:
15 - 29 points
Spinelli
:
30 - 44 points
Avi
:
45 - 59 points
Lowry
:
60 - 74 points
Konigsburg
:
75+ points
January: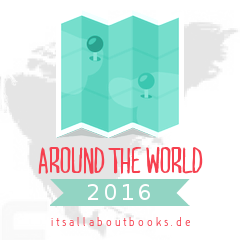 Goal: Read as many books from as many different places as possible.
Mini-Challenges
Read one book for each continent: Asia, North America
Read one book for each state in the US: Alabama, Connecticut, Colorado, Kentucky, Pennsylvania
Read one book for each ocean (the character travels across the ocean, no matter how): Pacific Ocean
The mountaineering challenge: climb the Seven Summits
Three Poles Challenge: visit North Pole, South Pole and Mount Everest
Visit a certain number of extreme points of Earth

Read a certain number of books set in capital cities

Read a certain number of books set in at least 5 different places (e.g. road trip books)

Read a certain number of books that are set in two places from different continents: Inside Out and Back Again (Asia/N. America)

Read a certain number of books within a 100km/1.5 Mile radius of where you live

Visit a certain number of the most famous landmarks in the world
A to Z challenge: Find a place for each letter in the alphabet: Alabama, Barbados, Connecticut, Denver, Kentucky, Norvelt, Vietnam
Visit a certain number of countries: US, Vietnam, Barbados
Read books from authors from a certain number of different countries: USA
Read a certain number of books set in places you've visited yourself: Denver
Welcome to the 2016 Sequel & Prequel Challenge, hosted by Novel Heartbeat and Writer Grrl Reads!
The goal: To read as many prequels and sequels as you can. You set your goal at whatever number works for you.
For each prequel and sequel read this year, points will be awarded as follows:
1 point for each prequel or sequel novella read and reviewed

2 points for each full-length sequel read and reviewed

10 points for completing and reviewing a full series (doesn't require novellas)*†

**You do

not

get points for the first book in a series
76-100 points: Professional
The Sweetest Dark Trilogy by Shana Abe -
Untitled (#3)
Wrath and the Dawn series by Renee Adheih
- The Rose and the Dagger (#2)
Six of Crows series by Leigh Bardugo
- Crooked Kingdom (#2)
The Midnight Thief Series by Livia Blackburne
- Daughter of Dusk (#2)
Prisoner of Night and Fog series by Anne Blankman -
Conspiracy of Blood and Smoke (#2)
Born of Illusion Series by Teri Brown -
Born of Deception (#2)
The Gold Seer Trilogy by Rae Carson -
Untitled (#2)
The Girl at Midnight series by Melissa Grey -
The Shadow Hour (#2)
Rebel Belle Series by Rachel Hawkins
-
Lady Renegades (#3)
The Paper Magician series by Charlie Holmberg - The Glass Magician (#2)/The Master Magician (#3)
The Iron Fey: Call of the Forgotten by Julie Kagawa - JAN:
The Iron Warrior (#3)(2 pts)
Talon Series by Julie Kagawa - Soldier (#3)
The Starbound Series by Amy Kaufman: Their Fractured Light (#3)
The Young Elites series by Marie Lu -
Untitled (#3)
In the After Series by Demitria Lunetta
- In the End (#2)
A Court of Thorns and Roses by Sarah Maas - A Court of Mist and Fury (#2)
Throne of Glass Series by Sarah Maas - Untitled (#5)
The Falconer series by Elizabeth May -
The Vanishing Throne (#2)/Untitled (#3)
Dont Get Mad series by Gretchen McNeil -
Get Dirty (#2)
Arclight Series by Josin McQuein - Meridian (#2)
The Orphan Queen by Jodi Meadows - The Mirror King (#2)
Lunar Chronicles Series by Melissa Meyer -
Winter (#4)
Ruined Series by Paula Morris - Unbroken (#2)
Remnant Chronicles by Mary E. Pearson - The Beauty of Darkness (#3)
Snow Like Ashes Series by Sarah Raasch -
Ice Like Fire (#2)/Frost Like Night (#3)
The Winner's Trilogy by Marie Rutkoski - The Winner's Curse (#3)
The Sin Eater's Daughter by Melissa Salisbury - The Sleeping Prince (#2)
Darker Shade of Magic by V.E. Schwab - Gathering of Shadows (#2)
The Bone Season Series by Samatha Shannon - The Song Rising (#3)
The Raven Cycle by Maggie Stiefvater -
The Raven King (#4)
Reboot Series by Amy Tintera - Rebel (#2)
The Elemental Trilogy by Sherry Thomas -
Immortal Heights (#3)
The Keeper's Chronicles by Becky Wallace - The Skylighter (#2)
Heartland Trilogy by Chuck Wendig - Blightborn (#2)/Harvest (#3)
Miriam Black Series by Chuck Wendig - Mockingbird (#2)/Cormorant (#3)
The 5th Wave Series by Rick Yancy -
The Last Star (#3)
How many books are you planning to read for this challenge?
1-10 A Firm Handshake
11-20 A Friendly Hug
21-30 First Kiss
31-40 Sweet Summer Fling
41-50 Could This Be Love?
50+ Married with Children
The 57 Lives of Alex Wayfarer by MG Buehrlen

99 Days by Katie Cutugno

Anatomy of a Misfit by Andrea Portes

Another Little Piece by Kate Quinn

Arclight by Josin McQuien

Beautiful Ruins by Jess Walter

The Bees by Laline Paull

Belzhar by Meg Wolitzer

Between the Notes by Sharon Hass Roat

Between Us and the Moon by Rebecca Maizel

Beware the Wild by Natalie Parker

Blackbird by Anna Carey

Blackbird by Chuck Wendig

Blacksad by Jose Canales

Blightborn by Chuck Wendig

Bone Gap by Laura Ruby

Book of a Thousand Days by Shannon Hale

Born of Deception by Teri Brown

Born of Illusion by Teri Brown

Conspiracy of Blood and Smoke by Anne Blankman

Constable and Toop by Gareth Jones

Cormorant by Chuck Wendig

The Cost of All Things by Maggie Lehrman

Crash and Burn by Michael Hassan

Curse of the Wendigo by Rick Yancey

The Daring Ladies of Lowell by Kate Alcott

Dark Place by Gillian Flynn

Daughter of Dusk by Livia Blackburne

Dead Wake by Erik Larsen

Distance Between Lost and Found by Kathryn Holmes

Dodger by Terry Pratchett

Don't Touch by Rachel Wilson

Don't You Forget About Me by Kate Quinn

Dreamland by Robert Anderson

Emmy and Oliver by Robin Benway

Enna Burning by Shannon Hale

Entwined by Heather Dixon

Even in Paradise by Chelsey Philpot

Every Last Promise by Katherine Halbrook

Every Other Day by Jennifer Lynn Barnes

Everything That Makes You by Moriah McStay

Exquiste Captive by Heather Demetrios

Falling Into Place by Amy Zhang

Faking it by Cara Carmack

Fan Art by Sarah Tregay

Fangirl by Rainbow Rowell

Finding It by Cara Carmack

Finding Paris by Joy Preble

Garden of Stone by Sophie Littlefield

Get Dirty by Gretchen McNeil

Get Even by Gretchen McNeil

Glass Magician by Charlie Holmberg

Goose Girl by Shannon Hale

Green Rider by Kristen Britain

Half Life of Molly Pierce by Katrina Leno

The Harvest by Chuck Wendig

Haunting Violet by Alyzandra Harvey

How To Tell Toledo From the Night Sky by Lydia Netzger

Howl's Moving Castle by Diana Wynne Jones

Ice Like Fire by Sarah Raash

If You Find Me by Emily Murdoch

Illustrated Man by Ray Bradbury

The Immortal Heights by Sherry Thomas

In the After by Demitiria Lunetta

In the End by Demitiria Lunetta

In the Garden of Beasts by Erik Larsen

In the Woods by Tara French

Intangible by J. Meyers

Kill Kiss Vanish by Jessica Martinez

Kingdom of Rarities by Eric Dinerstein

Kissing in America by Margo Raab

Ladies of Grace Adieu by Susanna Clarke

The Last Runaway by Tracy Chevalier

The Last Time We Say Goodbye by Cynthia Hand

Let's Get Lost by Ali Alsaid

Liar Society by Lisa and Laura Roecker

The Lies About the Truth by Courtney C. Stevens

The Lies We Tell Ourselves by Robin Talley

Life by Committee by Corey Ann Haydu

Lock and Mori by Heather Pretty

Little Wolves by Thomas Maltman

Mad Scientist's Daughter by Cassandra Rose Clarke

Made You Up by Francesca Zappia

Making Pretty by Corey Ann Haydu

Master Magician by Charlie Holmberg

Meridian by Josin McQuien

Mockingbird by Chuck Wendig

Monster Calls by Patrick Ness

The Monstrumologist by Rick Yancey

More Than This by Patrick Ness

Murder Complex by Lindsay Cummings

Museum of Extraordinary Things by Alice Hoffman

A New Darkness by Joseph Delancy

Night School by C.J. Daughtery

The Night We Said Yes by Lauren Gibaldi

No Place to Fall by Jaye Robin Brown

Ocean at the End of the Lane by Neil Gaiman

The One I Left Behind by Jennifer McMahon

Orchardist by Amanda Coplin

Orphanage of Miracles by Amy Neftzger

The Paper Magician by Charlie Holmberg

Parallel by Lauren Miller

Pretty Girl 13 by Liz Coley

Pretty Monsters by Kelly Link

Proof of Forever by Lexa Hillyer

Rebel by Amy Tintera

Reboot by Amy Tintera

The Rest of the Us Just Live Here by Patrick Ness

Revived by Cat Patrick

Right of Way by Lauren Barnholdt

River Secrets by Shannon Hale

Ruined by Paula Morris

Ruthless by Carol Lee Adams

Salvage by Alexandra Duncan

Saving Lucas Biggs by Marisa de los Santos

Shakespeare on Toast by Ben Crystal

Ship of Brides by Jojo Meyers

Sleep No More by Aprilynne Pike

Speechless by Hannah Harrington

Stolen Magic by Gail Carson Levine

Summer of Chasing Mermaids by Sarah Ockler

Summerland by Eli Hilderbrand

Ten by Gretchen McNeil

Trouble With Flirting by Claire LaZebnick

Twenty Boy Summer by Sarah Ockler

Unbroken by Paula Morris

Unfinished Life of Addison Stone by Adele Griffin

The Unquiet by Mikaela Everett

The Vanishing Island by Barry Wolverton

Wait for Me by Elizabeth Naughton

What's Broken Between Us by Alexi Bass

What We Saw by Aaron Hartzler

The Wicked We Have Done by Sarah Harian

The Winter People by Jennifer McMahon

The Winterling by Sarah Prineas

Woodcutter by Kate Danley

You Had Me at Hello by Mahairi McFarlane

You Look Different in Real Life by Jennifer Castle